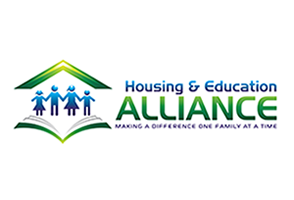 Housing and Education Alliance, (HEA) is a 501 (c) 3 HUD Certified Housing Counseling Agency that was founded in 2002 to provide culturally sensitive bilingual housing counseling services to our community. As an affiliate of The National Council of La Raza (NCLR) and a member of their NCLR Homeownership Network (NHN), HEA is able to bring additional resources to help the residents of the communities we serve. HEA celebrates and embraces the gift and richness of diversity.
Today, HEA provides complete housing services to residents throughout Central Florida who want to purchase a home or who are seeking foreclosure prevention services. The staff of HEA has over 100 years of combined experience in the fields of real estate, mortgages, counseling, economic development and business.
HEA is committed to working together each doing our part for the good of the organization and the community. We embrace innovation and entrepreneurship in finding solutions for our client's issues. We collaborate with residents, businesses, nonprofits and government partners in the development and revitalization of neighborhoods and communities.
Housing & Education Alliance actively participates and partners with other nonprofit agencies and businesses to bring our services to the local community and workplace. Our outreach efforts include appearing on local radio shows, public service announcements, media releases and workshops. HEA has participated in workshops organized by Congresswomen Kathy Castor, State of Florida CFO Alex Sink, Senator Mel Martinez, Congressman Gus Bilirakis and various local community centers. These workshops were presented throughout Florida's West Coast including Hillsborough, Pasco, Pinellas, Manatee and Hernando counties. We have a strong commitment to serving low and moderate income minority individuals and families.
HEA has been recognized and received the following awards:
Tampa Housing Authority's Housing Heroes Award​
Catholic Charities-Outstanding Community Services Award
Tampa Bay Hispanic Chamber of Commerce's Non-Profit of the Year Award
NeighborWorks America-2006 Innovations in Homeownership Contest for our "My Home America Housing Expo"
WEDU's – Be More Unstoppable Non Profit of the Year Award in 2011
Finalist for the Tampa Bay Business Journal's Non Profit of the Year Award for 2011
Tampa Latin Chamber – Non Profit of the Year 2011 Award
Tampa Latin Chamber – Non Profit of the Year 2012 Award
Florida Home Partnership awarded Walter Walker, HEA's Director of Education the 2012 Dorothy Duke Outstanding Community Service Award
Sylvia Alvarez, Executive Director – Tampa Bay Lightning Community Hero Award -2013
Sylvia Alvarez participated in the 2013 Tampa Bay's Dancing With The Stars event hosted by Hands Across the Bay and was named a runner up
Sylvia Alvarez was named a finalist as the 2013 Tampa Bay Business Journal's Business Woman of the Year
Sylvia Alvarez – HEA's Executive Director received a stellar letter of recommendation to serve on the Consumer Financial Protection Bureau Advisory Board. – March 2014
NCLR Homeownership Network recognized HEA for its outstanding achievements in the field of Housing Counseling-July 2014
HEA received an award July 2015 from NCLR for the Home Again Rehab Program.
Sylvia Alvarez appointed to the CFPB Consumer Advisory Board for a three year term –  2015         ​
Sylvia Alvarez appointed to JP Morgan Chase Consumer Advisory Board – 2015
The staff also contributes to the private industry sector by participating in workshops or speaking at industry events. Sylvia Alvarez, HEA's Executive Director was the keynote speaker at Fannie Mae's Women's History Conference in Washington, D.C. in 2009. Together Sylvia Alvarez and Walter Walker, HEA's Director of Education co-authored a book entitled "The American Nightmare – Strategies for Preventing, Surviving and Overcoming Foreclosure." The book was endorsed by the National Association of Hispanic Real Estate Professionals and funded in part by Freddie Mac. The book was translated into Spanish and was used by housing counselors and families facing foreclosure. The book was released at the start of the foreclosure crisis when very little information was available to help the consumer understand the foreclosure process, their options and the consequences of their actions. The book was well received and Sylvia and Walter were the featured guests at NeighborWorks Authors Luncheon in Atlanta in 2009 as well as guests or featured in several local and national media including Bloomberg Radio, Ebony Magazine, BankRate.com, Time Magazine Online, PBS Radio and TV, Wall Street Journal and Yahoo News.
Education & One-on-One Counseling: From its inception in 2002, HEA has delivered over 500,000 hours in education and one-on-one counseling to over 37,000 families and/or individuals on the subject of financial literacy and the homebuying process. Out of those served more than 7,000 purchased their first home either with or without government down payment assistance.
Students learn how to improve their budget and credit profiles, shop for and secure a mortgage loan and maintain their home and finances after the purchase. The goal of this class is to provide participants with the tools for household financial management and budgeting to enable them to make informed decisions in the home purchasing process. Some of the topics covered include: Understanding Credit and Reading a CreditReport, Repairing Credit, Choosing and Working with a Lender and the Mortgage Process, Understanding Mortgage Terms and Conditions, Choosing a Realtor and Selecting the Right Home for You, Closing Documents and what to expect at Closing.
Foreclosure Prevention:The Housing & Education Alliance was the local partner at several foreclosure workshops presented in partnership with HOPE NOW, NeighborWorks, Alliance for Stabilizing our Communities, National Council of La Raza, HUD, US Treasury, National Urban League, National CAPCD, Wells Fargo and Bank of America.
The events provided more than 10,000 homeowners an opportunity to meet face-to-face with their mortgage lenders and local housing counselors from HUD-approved organizations in order to look for solutions to their mortgage issues.
HEA
Is a State of Florida's Hardest Hit and Principal Reduction Advisor.
Financial Literacy: The financial literacy project will educate young adults ages 17-21 as well as adults on financial matters, banking, goal setting, budgeting, and understanding credit. The project will engage the participants with fun and age appropriate classroom exercises as well as online financial games that will help them develop good behaviors and life skills. These positive behaviors will give them a higher probability of a financially successful adulthood. The participants will identify goals and rewards for attaining the goals. There will be a component to engage participants in competition with the video games and with rewards for highest scores proving to them that being "financially fit" can be fun as well as rewarding.
The program will demonstrate the benefits of being "Financially Fit". Participants will understand the financial benefit of saving for a goal instead of using credit which can be costly. Participants will understand how to prepare for credit, how to practice good credit behaviors by developing trust through responsible actions. The project will help participants develop smart spending habits and responsible credit card use. Participants will be inspired with the rewards of saving, investing wisely and building wealth as well as given warning signs of predatory practices and how to avoid them.
MY HOME America Show: In order to expand our reach and bring important, up to date housing information to our communities, HEA has developed and produced the "My Home America Show." This half hour television program has guest appearances that detail the latest information available to those who want to become homeowners or who are struggling and facing financial crisis searching for programs and answers that will allow them to keep their homes.
Some of the topics covered are mortgage programs, foreclosure prevention programs, insurance, your rights as a homeowner and how and where to get down payment and closing cost assistance.
The show is taped in both English and Spanish and aired on several local TV networks. See the My Home America tab for more information.